At Full Wave Marine, we offer innovative products which will make your recreational sporting life more enjoyable, safe and most importantly EASY.
OUR PRODUCT LINEUP INCLUDES:
NEWS FLASH!!! MORE NEW PRODUCTS !!
THE TM-2 Engine WatchDog
Avoid Expensive Engine Damage
With Australia's No.1 Selling
Engine Protection Monitor
TM-2 Engine Watchdog
For your 4x4, Boat or PWC!
Make sure you check out our NEW HANDS FREE Jet Ski TWO-WAY Communications Kit - No one else has a product like it! Click Here
Cobra Communications Kit B - Communicate with other Jetski's on the WATER!

$199 INCL GST with FREE $59.95 Cobra WATER RESISTANT Lapel SPEAKER/MICROPHONE Bundle!

Cobra MRHH 325 EU Hand Held Marine Radio 2 Years Warranty UNIQUE FEATURES FOR THE MRHH 325 EU

• Unique Compact Design
• Submersible to JIS7 Standards
• Tri-Watch and Unlimited Memory Channels
• Powerful NiMH Battery
• External SpeakerMic Jac
• Selectable Power Output - 1, 3 or 5 Watts
• Large Illuminated Display
• Signal Strength Meter (Transmit and Receive)
• Illuminated Function Keys
• I nstant Channel 16
• Spring Loaded Belt Clip
• ATIS

Click Here for the Brochure on the Cobra MRHH 325

Check out the Free Remote Speaker/Mic

Click here to BUY NOW at our on-line store
6 AMP AGM SMART CHARGER


ONLY $139 - GET IT NOW!

Only $139! This 6 AMP MULISTAGE SMART switch mode battery charger has been specifically designed for AGM Batteries. Full three stage charging providing 25% more efficiencies than other ordinary chargers, they will reduce your electricity costs and increase your charging speed.
Furthermore, they feature built in protection systems designed to protect your battery and extend the life of your AGM battery. Features Small, light and compact size Short circuit protection Charger OP cuts off automatically when short-circuit Overload protection Charger OP automatically limits the current with overloaded Automatic multi-rate charge To suit AGM Batteries Bulk Charge 14.6V (charges quickly when battery low) and Absorption Charge 13.7V (charges slowly when battery high) Full Floating Charge and Automatic Shut Down when battery is full Intelligent temperature compensation Adjust charging voltage to compensate for battery temperature, providing an accurate charger in any climate Stylish aluminium housing Strong and efficiently disperses heat
Click here to BUY NOW at our on-line store
Jet Ski LED Brake Light
Currently, we have two kits to choose from. Our standard kit comes with the electronic module, FLEXIBLE LED Array, wiring, cable ties, heat shrink, fastening screws, silicone and easy to follow instructions. Our second kit contains additional wiring and an enhanced module which allows you to control the array with your vehicle's brake lights. In other words, it turns your ski into a 3rd brake light while towing it home!
*U.S. AND FOREIGN PATENTS PENDING*
Click here to BUY NOW at our on-line store
WATERPROOF Sound System for your PWC or Boat
We're happy to announce the latest product made exclusively by PWC INDUSTRIES INC. Waterproof Digital Amplifier & Speaker Kits will be available in March '07 With current draw an average of 1.5 Amps and all circuitry encapsulated in epoxy, it is now possible to enjoy your MP3's on your Boat, PWC, Motorcycle or ATV We will be updating this site soon with our full line of audio systems, online shopping cart, and much more. Please check back often for more watercraft innovations.
Now its possible to enjoy incredible sound in a harsh environment, even with limited battery capacity. Before now, a traditional amplifier was out of the question for two reasons: It would completely drain your battery in two hours & because it's air cooled, moisture would destroy it. We've designed an audio system that rivals your home theatre, just plug in your MP3 player and crank it up! Our amplifier is custom designed with features for your convenience. A 2 meter cable with gold plated 3.5 mm jack, simply plug into your MP3 player. Remote Control: 8 ft. of wire with sealed switches allows you full control of power on/off, Volume Up/Down, and we also added a Mute feature. The entire unit is encapsulated in epoxy, making it fully waterproof. Class "D" amplification offers 18 watt per channel output, while drawing an average of only 1.5 amp from your battery. This means you can play at least 8 hours and still have sufficient power to start your engine! The input source for our amplifier is a 6 ft. cable with a gold plated 3.5 mm jack which is standard for plugging into an MP3 player. (many submersible cases are available which makes your MP3 player waterproof) In addition, we have a gold plated adapter which allows you to connect it to a typical marine stereo providing it has RCA low level outputs in the back of it. (most do) As an added feature, our amplifier can be turned on remotely by your marine stereo if it has the remote amp feature. To complete the package, a pair of custom made waterproof marine speakers come with each amplifier. We're not talking about typical "water resistant", our speakers are truly waterproof because of sealed voice coils. These speakers are full range and utilize Neodymium magnets for high efficiency. The suspension is a mind blowing 1.5" with bass down to an incredible 40 Hz. Maximum power capability is 200 Watt, 50 Watt RMS. These custom designed, very high performance 4" speakers are an excellent choice for Personal Watercraft, ATV's, Motorcycles and small boats. In addition, High Performance 5 1/4", 6x9" and 10" speakers are available in your choice of color, black or white.
*U.S. AND FOREIGN PATENTS PENDING*
Here's a look at the customized features: FULLY SUBMERSIBLE! (Mounts anywhere, can't be hurt by weather or by submersing) LOW POWER DRAW - UNDER 3 AMPS! (Plays for approx 8 hours and you can still start your engine) DIGITAL AMPLIFICATION - TRUE 18 WATT PER CHANNEL (same performance as a traditional 80 watt) 8 ft. LEAD WITH SEALED PUSH BUTTONS (Controls Power, Volume & Mute Function from any convenient location) 6 ft. SOURCE LINE WITH GOLD PLATED 3.5 MM JACK (for plugging into your MP3 Player) AVAILABLE GOLD PLATED ADAPTER 3.5 MM - RCA (for connecting to a marine stereo) 8 ft. BATTERY LEADS (internally fused, just connect to the battery) 8 ft. SPEAKER LEADS (Marine grade wire) 8 ft. LEAD WITH REMOTE POWER SWITCH (mount in a convenient location, or connect to remote power up source) GOLD PLATED WIRE TERMINALS FOR CONNECTING WIRES (100% free from corrosion) THERMAL, POLARITY & SHORT CIRCUIT PROTECTED (No accidents during installation) MARINE GRADE WIRE (All necessary wiring is included and corrosion resistant) SPEAKERS AVAILABLE IN BLACK OR WHITE (Choose your color, Stainless mounting screws included) ONE YEAR UNCONDITIONAL REPLACEMENT WARRANTY. Available in March'07.
This product is essentially "hand crafted" for an audio enthusiast. The process of building each unit includes many steps, which are performed by skilled people, not mass production. To produce a truly waterproof and corrosion resistant product, epoxy encapsulated circuitry; gold plated terminals; tinned wire; sealed switches and other valuable components are utilized. The retail price of our system will be $999.00 AUD which includes one amplifier, a pair of 4" high performance speakers, sealed switches and all necessary wiring. Proper installation does require some soldering.
Chassis production, powder coating and silk screening are in progress. Assembly and shipping in mid APRIL '07.
Click here to BUY NOW at our on-line store
Full Wave PWC EASY Anchor System - Reduce unwanted scratches and gouges on bottom of PWC from beach or pulling up to a boat ramp with a rocky bottom. Don't park personal water craft (PWC) on beach or on the shore again. Safely anchor your PWC in shallow water using the Full Wave Easy Anchoring System which is easily stored in PWC compartments. Fully protected. The Full Wave PWC Easy Anchor System is a complete Anchoring System designed to make life easy when working with the tides. You simply drop your anchor on the way in to the beach about 40 Ft away and continue to the beach. When you arrive at the beach, you tie up a rope either to the screw type anchor which is included or to a tree and the first anchor rope with it's "bungee" behavior will pull the PWC back out towards the Anchor. As the tides move, your PWC is safe from bashing on the bottom as it is floating securely between the two ropes some 20 Ft from the edge of the beach. When you want to retrieve your PWC, simply grab hold of the rope which is tied to the mainland and pull your PWC towards you, jump on, pull the Anchor up and leave!
The Full Wave PWC EASY Anchor System comes with a 4 Lb Sand Anchor, Special Bungee style rope that stretches from 14-50Ft long, a rear rope 50 Ft long, all d-shackles included along with 216 stainless clips to make it easy to clip onto the front and rear of your PWC. We also put this package into a specially created padded bag, which will help protect your precious PWC from damage should the anchor system jump around in the storage bay whilst negotiating rough water conditions.
Click here to BUY NOW at our on-line store
FULL WAVE Waterproof PWC HORN kit including wiring harness- A Waterproof Horn for getting attention when you need it! whether that be to grab a friends attention who is on another PWC or another boat coming your way which has not seen you or a friend on land who's attention you want. This kit comes complete with a waterproof push type button, waterproof horn which can be mounted inside the handlebar cover and the wiring harness with full color installation instructions and a simple wiring harness to make your life easy.
Click here to BUY NOW at our on-line store
FULL WAVE Portable Mobile FLUSH/WASH KIT - Do you have noise restrictions in your area relating to flushing the motor of your PWC? Would you like to flush your PWC and wash it whilst at the boat ramp so that you can come home at any time, park the trailer and be done when you get home? This kit will enable you to do it. Simply choose the size of flexible water tank you need in the back of your car or 4WD and bring your Full Wave EASY flushing box with you. The Full Wave Easy Flushing box is a "tool box size" case which has a 20 liter per minute 70 PSI pump built in along with a 19 amp our battery. You simply quick connect the hose provided with the adjustable nozzle to one connector, connect the shorter hose included in the kit to your flexible water tank, switch the pump on, and away you go!
FULL WAVE PWC LED Navigation Light Kit - Ever been caught out on the water on an overcast and rainy day that started off sunny? Ever had a day that was so much fun, you got back to the ramp and it was dark? Did you know it is illegal to ride a PWC without any lights in overcast conditions in Australia? Problem solved... Install our DIY - Full Wave LED Navigation Light Kit. Discrete Port and Starboard LED lights on either side at the front of the PWC and an LED Stern Light at the back with a waterproof switch which has been tested in salt water for 2 years now... Get Legal and Be Safe when the conditions get cloudy - save yourself a ticket from the boys in blue and have a safer PWC overall and get this kit now.
Click here to BUY NOW at our on-line store
FULL WAVE ROOSTER TAIL Valve KIT Got a Yamaha PWC and sick of getting wt with a following wind when traveling at low speed? We have the answer - install this kit within 10 minutes( undo and replacing two hose clamps with our replacement host) and simply lean down behind you and turn the valve on and off as you require!
Click here to BUY NOW at our on-line store
Make no mistake, there is nothing worse than getting to the ramp, unloading the PWC into the water and finding out you have a flat battery. In fact, even if you find out just before you are about to leave for the boat ramp - it will still ruin your day in most cases!
That's why one of the fist things I always do when buying a boat or PWC is change out the battery to an AGM. Why AGM? Well, the fact is that they hold charge for longer when left sitting only 3% PER MONTH! They CHARGE FASTER and LAST LONGER. They can be mounted in your craft at ANY ANGLE. AGM Batteries take up LESS SPACE for the same AMP HOUR Rating. They are also able to be discharged deeper than a deep cycle Lead Acid Battery - this means you have more USABLE AMPS from an equivelant sized battery - ie. you can use 75% of your AMP Hour capacity - a Deep Cycle Lead Acid is reccomended no more than 50% - This gives you more AMP Hours per dollar in most cases. The price? Not that bad actualy. A 20 AMP Hour battery for a PWC - just $70 plus shipping.(usualy around $10).
Another reason I switched to AGM was that they are FULLY SEALED. No more risk of spilling Battery Acid over the inside of your craft or even worse - as I have seen - over the paintwork!
No More finding out that your battery is dead because it you forgot to fill it with distilled water and it is now buggered!
I have had a FullRiver Battery (120 Amp Hour) which has been very deeply discharged and very poorly treated in my boat for over 2 years now - still running fine - no issues yet at all!
I also have a 20 AMP HOUR in my Jetski - I don't charge it - only let the alternator take care of that - always has plenty of grunt and is fully charged each time I go to test it on a battery tester before going out for the day.
Another fact - AGM batteries were originally developed for the military, they are very robust and will take a real pounding!
check out our Battery page for more info!
Click here to BUY NOW at our on-line store
Reduce unwanted scratches and gouges on bottom of your boat hull using one of our WIRELESS REMOTE CONTROL WINCH UPGRADES for your Trailer Winch and be able to single handedly be anywhere around your boat and trailer during high winds or rough water while winching your boat up on the trailer by hitting the remote control which is just like a key fob remote to the alarm of your car! You can now confidently retrieve your boat in bad weather at the windiest of ramps ON YOUR OWN!
Also, install another one on your Anchor Winch - Don't pay seven or eight hundred dollars for the brand to match your winch! Be anywhere on the boat and drop your anchor or raise it regardless of where you are and what you are doing. In fact, one of our customer's who anchors his boat rear to the beach pull's his boat in and out from the beach without even getting on the boat
Or use one of these on your 4WD Winch! Any winch that uses solenoids to control it can have this upgrade!
If your trailer winch does not use solenoids(most don't) then buy the solenoid controller pack below as well - again don't pay several hundred dollars for this unit either! The remote control upgrade plugs straight into this box directly!
The Upgrade Allows the remote and safe operation of any winch that uses solenoids to operate.
The remote can operate up to 50 meters away from the mounting location! I have personally tested it and gotten a much longer distance.
The remote has two buttons - up and down.
The remote is fitted with a long life battery.
The receiver comes with a 1.5 metre re lead so you can locate it well up and out of the way or in the cabin.
The unit comes with the female plug so that it can be set up as a "removable and transferable unit".
Each unit is supplied with comprehensive fitting instructions.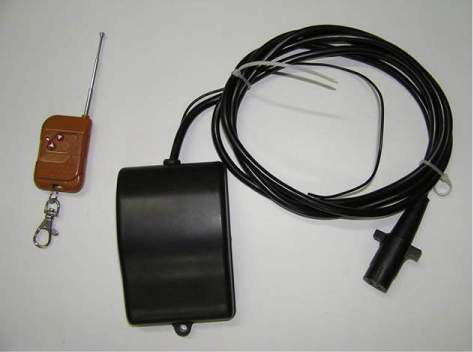 Click here to BUY NOW at our on-line store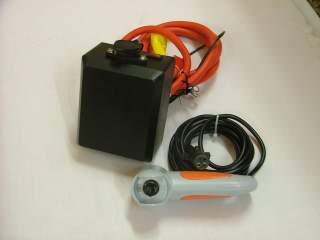 FEATURES:
Low Profile Winch Controller
Controller mounted isolation switch
Cabled remote
Controller housing
*** Wireless Winch controller compatible